1 November 2016 | Awards & Reviews | Flametree Wines
Best Rosé in Australia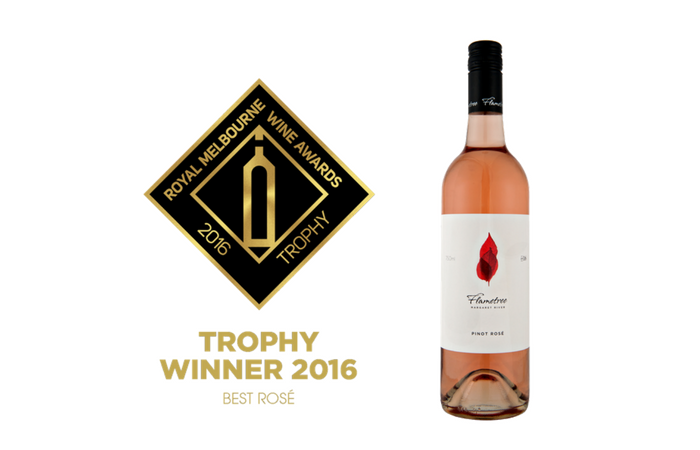 Our stunning Flametree Pinot Rosé 2016 took out the trophy for Best Rosé in Australia at the recent Royal Melbourne Wine Awards. This is an amazing result and testament to the incredibly hard work our winemakers put into every one of our wines.
We are incredibly honoured to take out this trophy for Best Rosé. The 2016 Pinot Rosé has a distinctive pale orange colour. Aromas of red fruits overlay subtle floral and candied strawberry characters. The palate is deliberately savoury, with moderate weight, soft chalky tannins and dry finish. The lees and wild ferment have provided a nice foil to the lovely red berry fruit of the Pinot Noir.
The Royal Melbourne Wine Awards are conducted each year by the Royal Agricultural Society of Victoria (RASV) and is viewed as Australia's premier wine awards. This event looks to celebrate the true excellence in Australian winemaking and helps to showcase the wine industry's diversity and quality. The Royal Melbourne Wine Awards gives quality Australian wine producers a unique opportunity to promote their wines to not only industry but also to consumers.
The Royal Melbourne Wine Awards was established in 1884, with only 13 wines entered int he first year, this has steadily grown to over 3,100 entries this year.