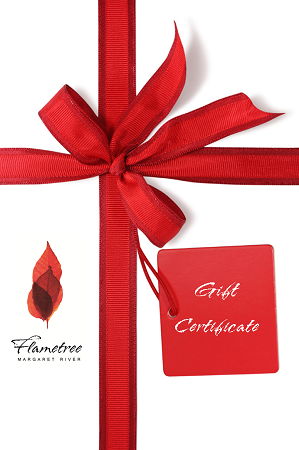 $75 Gift Certificate
Need an impressive gift?

Someone you know planning a trip to the region?

Flametree's Gift Certificates are now available to purchase and personalise online!

Flametree gift certificates can be redeemed at either the cellar door or online to purchase wine. At the Cellar Door we have our whole range of wines available to taste and purchase. We also have a selection of gourmet products to make your own cheese platters and relax with a glass of wine on the deck! Our huge range of merchandise includes: books, wine glasses, wine related gifts, clothing, gourmet food products and much more. Your card can be used on most purchases at Cellar Door except artwork.

To purchase, simply click on shop online, add the voucher to the shopping cart and complete the form to personalise, once paid the gift certificate will be emailed direct to the recipient!

Gift cards are valid for 12 months from date of purchase.